PAHADI LOVE
Acts of Kindness
PAHADI PRESERVE
Environmental Impact
PAHADI EMPOWER
Creating Employment
Pahadi Experiences
Comment
"Just wanted to let you know that Pull- your Face Cleanser is probably the best product I have ever used. Only been using it for a weeks now and every day I am pleasantly surprised by how much healthier my skin is looking."
- Mandira Chauhan
"I completely adore the Gutti Ka Tel, I am on the 2nd bottle and trust me I use it all year not only winters. It has worked like magic on my skin. I am a Pahadi girl myself and I just love what Pahadi Local is doing . Kudos."
- Shruti Mathur
"I just used the Gutti Khal today and my skin is baby soft. Now I can relate to all your reviews. No other scrub I've tried has made my skin feel this good. Love it."
- Rutuja K
"I've been using Behmi Ka Tel since two days but it has already started showing results. My skin feels so hydrated, it gets absorbed in skin so fast and the texture of the oil is so so smooth. I love it already. I have recommended your brand to my colleague and she purchased peach kernel oil too last week. She said that her wrinkles have started minimising already. She has already placed order for Akhrot Ka Tel. Thank you for providing such amazing products."
- Minal Varma
"Such an amazing product. The Markalak Clay is so soft plus it removes all impurities and makes my skin shine. My brother tried it too, He got compliments from his friends that his face is shining. Thanks for the best clay mask I have used and can trust."
- Aditi Roongta
Comment
"Wow…I love your products. My family uses your Chichri Honey religiously."
- Srila Doshi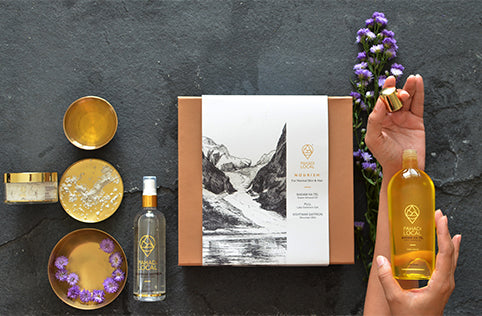 Pahadi Care Packages

Cleanse - Acne Prone & Oily Skin
Moisturize - Dry & Dehydrated Skin
Nourish - Normal Skin & Hair